Horseshoe crab research and development work at Kepley BioSystems is supported by a National Science Foundation (NSF) Small Business Innovation Research Phase I Grant (#1819562): A Novel Horseshoe Crab Device and Approach for a Sustainable Endotoxin Testing Resource. This research has been performed through a partnership with the University of Georgia Marine Extension (MAREX) and Georgia Sea Grant, the Jekyll Island Authority, the Georgia 4H Tidelands Nature Center, and the Georgia Department of Natural Resources.
Update: In May 2020, the US Pharmacopeia (USP) cited the use of horseshoe crab-derived test reagents for ensuring the sterility of injectable drugs and implanted medical devices as the standard in lieu of more recently developed recombinant alternatives. Kepley BioSystems has addressed the horseshoe crab blood testing controversy and USP endotoxin regulations in a statement that can be read by clicking this link.
An additional paper, "Answering a Global Call to Arms," chronicles the impact of lethal microorganisms and antibiotic resistance. Written before the COVID-19 pandemic, it sought to raise awareness of the ongoing threats of morbidity and mortality from infectious disease.
The unique blue blood of the Atlantic horseshoe crab (Limulus polyphemus) provides the medical industry with one of the most accurate methods of testing for dangerous endotoxins; however, industrial demands of this ecologically important creature cannot be sustained at current levels. Kepley BioSystems believes that engaging in thoughtful husbandry and applying innovative bleeding approaches can ensure species viability and well-being, as well as an increased supply of this vital resource.
Since the 1970's, the pharmaceutical industry and, in turn, millions of patients, have depended on Limulus amebocyte lysate (LAL), a substance derived from cells circulating in the blood of Atlantic horseshoe crabs. These special blood cells, or amebocytes, are critical to the horseshoe crab's own immune system. They can also be used to detect endotoxins, which are characteristic of gram negative bacteria, such as E.coli and salmonella, to help ensure the safety of human vaccines, drugs, implants, and other medical devices.
These horseshoe crab cells enable the LAL assay to react to bacteria in a test tube, much the same way they protect the crab. When LAL is exposed to dangerous bacterial endotoxins, even at levels down to parts per trillion, a clot is formed and signifies the presence of these potentially lethal contaminants. In fact, the ability of LAL to detect deadly endotoxins is so reliable that the assay is the "gold-standard" approved by the US Food and Drug Administration (FDA) for drug and implant certification. International demand for LAL has also continued to accelerate as more vaccines, injectable drugs, and implantable devices are sold in markets requiring FDA compliance.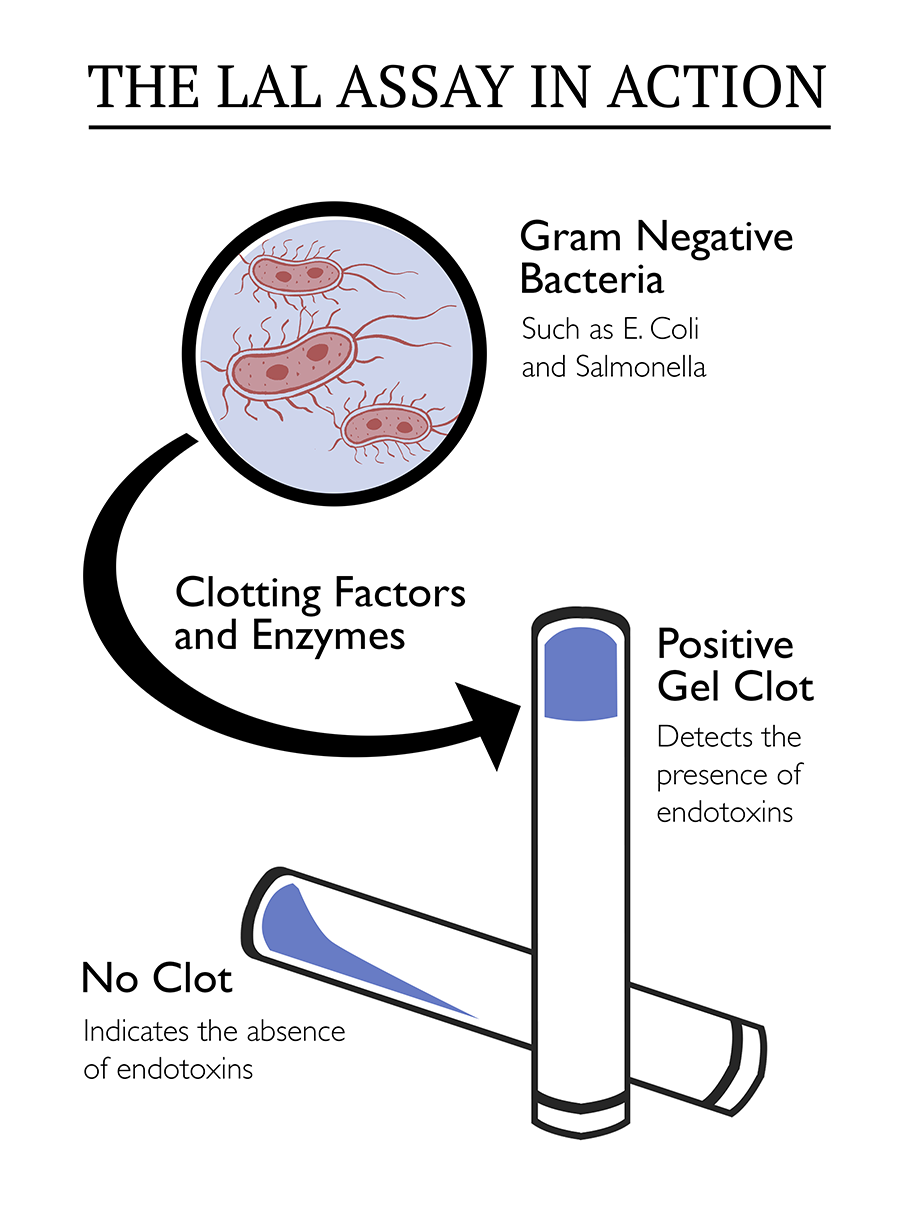 The Kepley team set out to design and develop a more effective way to husband and bleed horseshoe crabs. Upon completion, these methods would ultimately provide increased amebocyte supplies while being less taxing on the animals. This project has been conducted in two distinct but related locations: one taking place in an indoor facility in Greensboro, North Carolina; and the other in a natural containment site in Jekyll Island, Georgia. These two tracks of the project were designed to assess the feasibility of horseshoe crab husbandry through careful monitoring of health parameters, optimizing dietary variables to promote amebocyte vitality, and adopting new protocols and methods toward a sustainable bleeding process. With strict monitoring and data collection, smaller amounts of blue blood may be taken more frequently, while ensuring the overall wellbeing of the crabs.
Thanks to initial funding from the North Carolina Sea Grant, the Greensboro team prepared a multi-tank recirculating aquaculture system to house the horseshoe crabs within the Gateway Research Park location. These crabs were fed special diets comprised of proprietary feed designed to maintain their health, blood quality and amebocyte counts.
This controlled atmosphere allowed the Kepley team to closely monitor the horseshoe crabs through regular inspections and small-volume blood draws to track amebocyte and protein levels. Alterations could be made quickly to ensure that the horseshoe crabs were active and healthy.
Dr. Rachel Tinker-Kulberg joined the Kepley team in 2017 thanks to an introduction from the North Carolina BioTech Center. Rachel's exceptional expertise in biochemistry and aquaculture was a perfect fit to develop the customized horseshoe crab aquaculture systems and diets, as well as the in-house biochemical blood assays.
"This NSF grant provided a remarkable opportunity to combine both my scientific skills and my passion for conservation to pursue a rewarding career that, ultimately, benefits society as a whole. I'm quite proud of what we accomplished in this short amount of time and believe that the project will ultimately lead to adoption of more sustainable methods of horseshoe crab blood harvesting for the biomedical industry, as well as a novel rapid medical diagnostic tool that uses HSC LAL to detect blood-borne pathogens, an innovation with the potential to save countless lives lost to sepsis each year."
With support from the NSF, the team began the design and utilization of methods to allow for simpler blood draws with reduced impact on the crab. These innovations combine for a far more sustainable process than with current practices where the horseshoe crabs are caught in the wild, bled once and returned to the beach without management and monitoring to ensure the wellbeing of the crabs over time.  Such catch, transport, bleed and release methods are harmful to the animals and will hopefully be obsolete in the foreseeable future. 
The lessons taken from the indoor facility would directly translate to scaled-up versions of the system where additional horseshoe crabs could provide this vital resource at an industrial volume and competitive price.
Lauren Perdue is a rising senior at Northeast Guilford High School in McLeansville, North Carolina. Always one to tackle an academic challenge head-on, Lauren spent her summer mornings performing water parameter checks for the indoor aquaculture system and providing the horseshoe crabs their daily meal. In such a system, water chemistries must be well maintained and recorded to ensure proper pH, alkalinity, and dissolved oxygen levels to provide the optimal environment for the horseshoe crabs. With goals to attend the University of North Carolina at Wilmington to pursue a career in accounting, these studious record-keeping skills lend themselves well for summer experience.
"These are fascinating creatures," Lauren said of the horseshoe crabs. "Their feet are attached to their mouth, so it's fun to watch as they eat." In order to determine the healthiest diet for the animals, Lauren worked with the Kepley team to carefully distribute a strict feed regimen to the crabs, including the proprietary in-house formulation. Some of these diets contained cut-up fish and squid, so Lauren suggests that those with weak stomachs eat a very early breakfast before arriving to feed the horseshoe crabs.
Thanks for all your hard work, Lauren!
Horseshoe crabs have 10 eyes!
Eyes are positioned all over their bodies, even underneath and on the tail!
In cooperation with the University of Georgia Marine Extension and Georgia Sea Grant and the Georgia 4H Tidelands Nature Center, specially designed enclosures were erected in Tidelands Pond, a salt-water body on Jekyll Island, Georgia. This pond was chosen as an ideal location to maintain the horseshoe crabs, allowing them to be studied in a natural environment that closely mimics their wild habitat.
Beginning in the spring of 2019 and continuing into the summer months, researchers established a population of 40 horseshoe crabs in this "ranch" environment. The uniquely designed pen enclosures allowed the horseshoe crabs multi-dimensional movement in a setting intended to maintain their rhythms and cycles. The horseshoe crabs and water quality were monitored daily by undergraduate interns supported through the NSF. These horseshoe crabs were individually marked to enable detailed monitoring for a variety of parameters in this study.
Photographs courtesy of Emily Kenworthy/UGA Marine Extension and Georgia Sea Grant
•  It was Dr. Fredrick Bang who discovered the causative agent that made horseshoe crab blood clot. He published his findings in The Biological Bulletin in 1953.
•  The horseshoe crab has both a commensal and parasitic relationship with the "Limulus leech" (bdelloura candida), a flat worm that lives and lays its eggs in gills of the horseshoe crab. Over its lifetime, a horseshoe crab's body can serve as shelter to a myriad of such hitchhiking organisms.
Cole Wilder is a UGA Marine Extension intern who worked closely with the Kepley BioSystems team on the horseshoe crab research in Jekyll Island, Georgia.
Cole worked with the horseshoe crabs during the summer, assisting with water quality testing and data entry, as well as feeding and health monitoring at Tidelands Pond. As a recent graduate from the Coastal College of Georgia Coastal and Marine Ecosystems Program, Cole is currently pursuing professional opportunities in the fields of husbandry and educational outreach. Thanks to NSF support, the project enabled Cole to apply his classroom experience to the field, enhancing scientific and analytical skills essential to his academic discipline.
"This internship has been a wonderful opportunity to help further develop my skills in husbandry and outreach," Cole said while tending to a horseshoe crab, "and has also given me the chance to experience the research aspect of the biology field."  
Thanks for all you do, Cole!
The most recent addition to the horseshoe crab project team, Ivy Spratling spent her summer working as an intern at the UGA Marine Extension. As a biology major attending Gardner Webb University in North Carolina, Ivy is planning to attend the University of Georgia to earn a master's degree in marine sciences. This research experience has allowed her to build crucial networking, outreach, and teamwork skills that will prove fundamental moving forward, and which ultimately solidified her decision to pursue a career in the field.
"I really enjoyed being out in the field the most," Ivy said about the project. "I liked getting hands-on experience handling the crabs and feeding them. It is important to see things first-hand in order to learn the most about them. This project has given me the confirmation that marine science is something I would like to pursue as a career, and I am thankful for being a part of this opportunity."
Thanks for all your help, Ivy!
If you feed a horseshoe crab a diet containing krill for a week or more, its feces will turn the color pink!
The first phase of the project culminated in August of 2019, ultimately achieving all of the grant goals and milestones. The research and findings during this period have provided an alternative to current practices in which random, wild capture of horseshoe crabs removes from the water for extended periods during their most vulnerable breeding season - and then exposes them to an array of challenging variables for bleeding, with consequent morbidity and mortality before or following transport back to their habitat.
The Kepley collaborators believe this promising work can lead to scaled-up aquaculture centers that can ensure sustainable harvesting of the globally vital LAL resource through humane and innovative methods with a much smaller group of "pampered" horseshoe crabs, healthy enough to allow low-impact harvesting year-round.
With encouraging results from this study, Kepley BioSystems is developing a Phase II strategy, which will focus on further improving blood chemistry and amebocyte vigor using these novel approaches to husbandry and bleeding. Please follow Kepley BioSystems on social media and online for updates and progress.
The horseshoe crab continues to be an important species, both in the wild and in the news. Read more by clicking the links below.
Horseshoe crab blood is key to making a COVID-19 vaccine—but the ecosystem may suffer (National Geographic, July 2, 2020)
Drugs standards group nixes plan to kick pharma's crab blood habit (Reuters, May 30, 2020)
LAL assay derived from aquaculture could be used to detect endotoxins in human blood (Drug Target Review, May 7, 2020)
A new method implementing RAS technology will house Horseshoe crabs for medical purposes (Aquaculture Magazine, April 15, 2020)
Affordable and Fast Clinical Test Can Save Human Lives and Spare At-Risk Population (Clinical Lap Products Magazine, April 15,2020)
New Method for Sustainable Harvesting of Horseshoe Crabs for Limulus Amebocyte Lysate (Genetic Engineering and Biotechnology News, April 1, 2020)
Blue Bloods Spawn New Research Partnership (Sea Grant North Carolina, Coastwatch Currents, August 9, 2018)
Photographs courtesy of Emily Kenworthy/UGA Marine Extension and Georgia Sea Grant